Usage of Chain Link Fence:
Chain link fences are applied for road fence, storehouse, sport fence,yard fencing,dog fence and commercial area.
We often find diamond patterning chain link fence around tennis courts, basketball court, and in garden.
Chain link fencing with concertina wire on the top may be used to protect a utility power substation.
Chain link fence panel also can be used for short track. Because it is easy to install, durable, lower price and the ability of corrosion resistance. The products after galvanized and PVC coated have a good looking and ability of rust resistance.
Install of Chain Link Fence:
The installation of chain-link fence involves setting posts into the ground and attaching the fence to them. The posts may comprise steel tubing, timber or concrete and may be driven into the ground or set in concrete. End, Corner or Gate posts, commonly referred to as Terminal Posts, must either be set in concrete footing or otherwise anchored to prevent leaning under the tension of a stretched fence.
how do install chain link fence,pls check here!
Features of Chain Link Fence:
Chain Link Fence is one of the most popular choices of fence for both light residential to heavy commercial fence applications. Chain link fence is one of the most practical styles of fence, relatively easy to install, and very cost effective.
Galvanized Chain Link Fence: composed by Galvanized Chain Link Mesh Roll and Fence Post.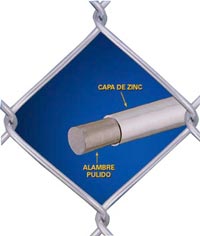 Applications :
Galvanized residential chain-link fence systems have been preferred for decades to define property lines and enclose animals, as well as protect and add value to property. For privacy, different types of decorative polyethylene and aluminum slats, available in a variety of colors, can be added to create an attractive screen.
Features and Benefits:
Residential chain-link fence systems are commonly used because they're durable and easy to install.

All steel components of a Master Halco galvanized chain-link fence system are hot-dip zinc coated and guaranteed with a 7 and 12 year coating warranty.

Ties used to attach the chain-link fabric to the framework between terminal posts are made from aluminum, resulting in maintenance-free security.

Some fittings such as caps, rail ends, and eye tops are made from rugged die-cast aluminum making the fence very affordable.

Due to the fence make-up, residential chain-link systems preserve views and provide tranquility to almost any property.
PVC Coated Chain Link Fence:
composed by Galvanized Chain Link Mesh Roll and Fence Post.

Applications:
pvc coated chain link is the perfect choice for property owners who need the strength and protection of a chain-link fence system plus an appearance that blends in beautifully with the environment. pvc coated chain link defines property lines, encloses animals, as well as protects and adds value to any property. For privacy, choose from different types of decorative polyethylene slats tinted to match the shades of color chain-link systems.
Features and Benefits:
Zinc-coated steel framework that is thoroughly cleaned during the pretreatment process, then color coated with a 3 mil minimum polyester layer for dual protection from corrosion.

All galvanized wire has a 15 mil minimum extruded polyvinyl chloride coating for dual protection from corrosion and the elements.

Fittings are made of galvanized steel with a 6 mil minimum of polymer coating for added protection.

Treating components with both zinc and an electrostatically applied color coating helps them provide years of protection and security.

12 year limited warranty provides confidence and assurance that you've selected one of the best color chain-link fence systems available.
Specifications of Chain Link Fence:
Szie of Chain Link Mesh:
Height: 1.0m-6.0m
Length: 2m-30m, other height and length are also avialable.

Wire Thickness:from 1.5mm to 6.0mm
Hole Opening: 2",3",4" or 25mmX25mm,50mmX50mm,60mmX60mm,80X80mm,100mmX100mm,other hole size is available.
Size of Fence Post:

Material:Round Steel Pipe,Square steel pipe
Finished:Electric Galvanized,Hot Dipped Galvanized, Polyester Painting
Polyester Painting Color: Any RAL Series Color ( Normal RAL6005-Dark Green,RAL9005-Black)
Round post: Outside diameter:50mm,60mm,76mm,89mm or on request.
Thickness: 2mm,3mm,4mm,5mm or on request.
Length: On Request(Normal 1.5m-6m)
Accessories of Chain Link Fence:
Steel Clamps: On request
Horizontal Rail: Top Rail, Middle Rail,Bottom Rail On Request.
Support Rail: On Request
Rail Size: 32mmX2.5mm Round Steel Pipe
Single Arm Or Double Arm: On Request
Tension Wire Or Barbed Wire: On Request
Concertina Razor Wire: On Request
Tension Wire: On Request
Tension Bar: On Request
Tie Wire: On Request
Bolts & Nuts: According to Need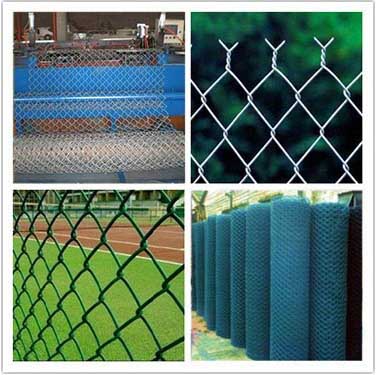 As professional Chain Link Fence china factory and diamond mesh fencing manufacturers,we have all sizes diamond mesh fence for sale and can offer best chain link fence price or diamond mesh fencing prices.
when need buy chain link fence, welcome contact us!