Continuous filter belts also called reverse dutch wire mesh. Reverse dutch weave wire cloth is woven using two sizes of wire. Smaller wires are used in the warp direction and are woven with a larger shute wire. The smaller wires are woven tightly together, providing a tight screen belt filtering impurities. The larger wire provides strength to the mesh. The primary uses of this wire cloth are filtration and separation of liquid and slurry products.
Continuous Filter Belts Specification:
• Materials: 304, 304L, 316, 316L, 430, copper clad steel, etc.
• Weave style: reverse dutch weave pattern (reverse plain dutch weave and reverse twill dutch weave).
• Mesh Size: 48 × 10 mesh, 72 × 15 mesh, 132 × 14 mesh, 132 × 17 mesh, 152 × 24 mesh, 152 × 30 mesh, 260 × 40 mesh, 250 × 40 mesh, 400 × 120 mesh, etc.
• Popular belt width: stainless steel continuous screen: 67mm, 95mm, 97mm, 100mm, 127 mm, 133mm, 150mm, 157mm, 190mm, 210mm, 300mm, 400mm;
copper clad steel continuous screen: 230mm, 380mm; And other customized, maximum width is 0.5 m.
• Standard length: (stainless steel ) 10 - 30 meters or (copper clad steel ) 50-80 meters.
• Filtration Accuracy:Continuous screen 300 micron, 200 micron, 125 micron, 100 micron, 20 micron, etc.
Other size available.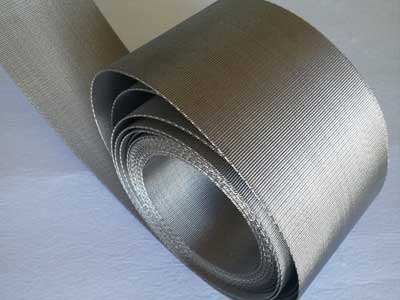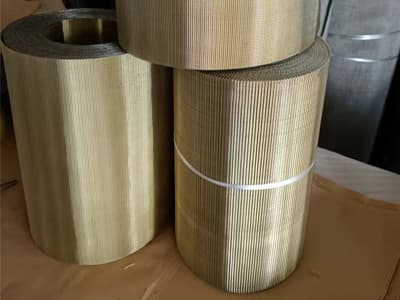 Hot Specifications of Extruder Screen Belt Ordered By Customers:
• 201 304 90mm-400mm width stainless steel extruder filter screen for pp press.
• PP woven bags use stainless steel 75 micron wire screen mesh.
• 152*30 mesh plastic extruder filter mesh screen belt for hot melt screen changers.
• 152*30 260*40 mesh stainless steel filter screen changer belt for plastic extruder.
• 72*15 132*17 mesh ss plastic extrusion machine automatic belt metal filter mesh.
• 152*24 152*30 mesh automatic mesh belt melt filter for extrusion plastic machine.
• 260*40 300*40 mesh stainless steel reverse dutch wire mesh for conveyor belt.
• 72*15 mesh 0,45x0,50mm reverse dutch weave filter belts.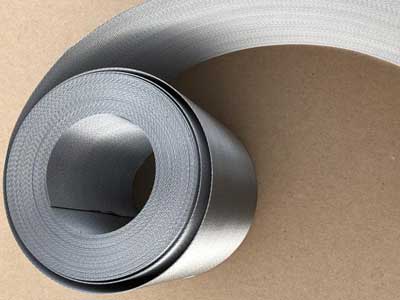 Auto Mesh Belt Filter Characteristics:
• The Auto mesh belt filter is produced by reverse dutch weave, so it has greater strength to support for greater loads in filtration.
• With reverse dutch weave, the filter belt has precision mesh size to effect good filtration in extrusion.
• High Tensile Warp wire for Auto-Screen changers used in the Plastic Extrusion Industry.
• Continuous (automatic) belt filter has the resistance to acid, alkali, corrosion and high temperature.
• Auto screen filter wide ranges of mesh sizes for different filtration requirements and grades. Suitable for various automatic screen changers.
• Rubbed Edges after slitting to help with tracking for Auto-Screen changers.
• Plasma and laser cut parts to help prevent edges wire fraying, through the machine very flexibility.
• Uninterrupted replacement for effective production.
Continuous Automatic Belt Filter Screen Application:
• Continuous belt screen is widely used in various screen changers to filter out impurities in the polymer extrusion process without interrupting the process.The stainless steel reverse dutch extruder screen belt are widely applied on PC, PP, PE, PS, HIPS, PET, PVC, ABS, PMMA and other plastic sheet extruder, the membrane machine, granulator, and nonwoven fabrics, resin, color masterbatch, filler, leather chemical fiber extruder, etc.
• Extruder screen belt is mainly used for belt style continuous screen changers in fine filtration and extrusion process. Applicable to the Austrian lenzing equipment and Germany, Japan and other countries of the wire drawing machine, stretch film machine, coating machine filters.
• This plastic extruder screen filter ribbons used for polymer melt filtration in every segment of plastic processing include blown film, blow molding, sheet and film extrusion, filaments and fibers, pipe and profile, pelletizing, bopp, bopa, bopi, bope, bops, bopvdf, bopva, etc.
• Stainless steel extruder filter screen band also used in papermaking, printing and dyeing, pharmaceutical, mining, steel, coal, leather and other industries, especially in urban sewage treatment and industrial sludge dewatering.
Detail Specification of Continuous Filter Belts:
Reverse Plain Dutch Weave(RPD):
RPD has warp wires laid as close as possible one to another with relatively thin diameters, while the weft wires are very strong so called reversed weave.
Twilled Reverse Dutch Weave(TRD):
TRD is also a Reversed Dutch Twilled type, although in a twilled form. The warp wires are distributed as with RPD, although the weft wires are knocked up in a twilled weave pattern, so as not to deform the warp wires too much.
Reverse Dutch Weave Continuous Filter Belts
Weave of Type
Mesh/Inch
Wire Diameter
mm
Nominal Micron
μm
TRD
48 x 10
0.50 X 0.50
400
TRD
72 x 15
0.50 x 0.50
300
TRD
132 x 14
0.35 x 0.45
200
TRD
132 x 18
0.35 x 0.44
180
TRD
152 x 24
0.27 x 0.40
160
TRD
152 x 30
0.27 x 0.30
130
RPD
250 x 40
0.15 x 0.25
90
RPD
260 x 40
0.15 x 0.27
125
RPD
280 x 70
0.089 x 0.21
45
RPD
325 x 39
0.13 x 0.24
55
RPD
600 x 125
0.043 x 0.12
20
RPD
720 x 150
0.035 x 0.107
15
Continuous Filter Belts

Packing :
Inside: plastic film, waterproof paper, etc.
Outside: carton, wooden case or according to customer's request.