Square Wire Mesh Materials:
• Carbon Steel: Low, High, Oil Tempered;
• Galvanized wire: Electro Galvanized, Hot Dipped Galvanized;
• Stainless Steel: AISI304, 304L,316, 316L,410, 430 etc;
• Copper and Copper Alloys: Copper, Bronze, Brass, Phosphor Bronze;
• Aluminum and Aluminum Alloys: 1350-H19;
• Nickel and Nickel Alloys.
Carbon Steel Woven Square Wire Mesh:
Low Carbon Steel Square Mesh:
Low Carbon Steel Square Mesh is also called Black Wire Mesh or Low Carbon Steel Wire Mesh.
Low Carbon steel is frequently used in the manufacture of industrial woven wire screens due to its tensile strength and impact resistance. Low carbon steel wire mesh has a limited application due to its weakness in resistance to abrasion, chemical attack and corrosion. There are times when certain users will opt to coat a plain steel welded or woven wire mesh. This is normally considered an aftermarket process as there are dozens of coating options, including galvanizing, PVC or powder coating, and special paints and coatings.
High Carbon Steel Crimped Wire Mesh:
High Carbon Steel Crimped Wire Mesh is extensively used in industry for various applications such as separation, filtration, grading, sizing, crushing and shifting. It is applicable for a variety of materials, ranging from minerals, stones, construction materials, ceramic and food items. Due to its rigid design and excellent protection against abrasions, it is highly suitable for processing heavy abrasive materials like ores, crushed stones, sand and gravel coal.
Oil Tempered Steel Wire Mesh:
Oil Tempered wire is specially tempered high carbon steel wire to provide greater strength and abrasion resistance, although its resistance to impact is somewhat lower than regular high carbon steel.
Industries and uses for carbon steel wire mesh are as follows:
| | | | |
| --- | --- | --- | --- |
| window screening | general industrial use | filtering liquid and gas | sieving grain |
| Infill panels | fencing, caging & enclosures | high security applications | landscaping & gabions |
| wall & stone retention | heat treatment | greenhouse use | particle separation |
| building & construction projects | safety guards on machinery enclosures | farm,garden & agricultural use | mining,coal development |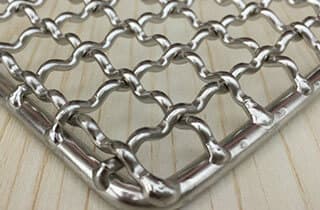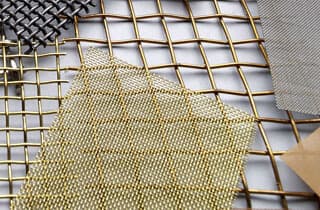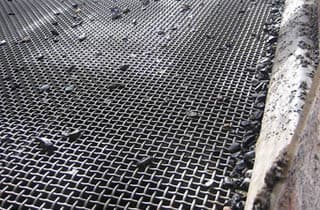 Galvanized Square Wire Mesh:
Galvanized square wire mesh is made with mild steel wire pregalvanized via the electro galvanizing or hot dipped zinc plating. The Mild steel fine wire is then woven or welded into mesh nettings with different mesh density and sizes. Galvanized wire mesh has two types: woven galvanized mesh and galvanised steel welded mesh.
It is divide into electro galvanized and hot-dipped galvanized square wire mesh
Galvanizing can occur either before or after wire mesh is manufactured – both in woven form or welded form.
Due to its attractive price point and its corrosion resistance, galvanized wire mesh is very popular among industrial users of wire mesh.Some of the more popular uses and applications of galvanized wire mesh are listed below:
| | | | |
| --- | --- | --- | --- |
| cement industry | grading | metallurgy industry | ceramic industry |
| coal industry | heat treatment | ventilation grilles | room partitions |
| grill & radiator covers | infill panels | foundries | window guards |
| mines & quarry | shaker screens | waste management | farm & agricultural use |
| separation & filtration | construction industry | food processing industry | Cabinets & wine lockers |
Stainless Steel Woven Wire Mesh:
Stainless Steel Woven Wire Mesh is woven by stainless steel wire.
It is also called stainless steel wire cloth, stainless steel mesh screen, stainless mesh, stainless wire mesh, ss wire mesh.
Stainless steel is selected for their wear-resisting, heat-resisting, acid-resisting and corrosion resisting characteristics. Many different grades of stainless are used in wire mesh.
Stainless Steel Woven Wire Mesh is easy to install, easy to maintain and is a cost-effective solution for multiple steel applications,e.g decorative mesh,architectural mesh,filter mesh.
For more info please check our website: www.wiremesh-goldenmetal.com/stainless-steel-wire-mesh
Copper Mesh:
Copper mesh is also named brass wire cloth or bronze wire mesh that offers excellent electrical and thermal conductivity.
It's an ideal mesh for fabricating gasoline filters and baskets for electric polishing. Applications include electronic security, aviation, outer space exploration and research, power generation, electronic information security, high-frequency scientific and medical
equipment.
Specifications:
Brass mesh we weave between 1-250mesh,
Copper mesh 1-200 mesh,
and Phosphor Bronze wire mesh 1-400 mesh.
Aluminum Wire Mesh:
Aluminum Wire Mesh is woven by aluminum alloy wire, it is widely used as mesh screen, so aluminum wire mesh is also called
Aluminum Insect Window Screen.
14mesh,16mesh,18mesh,20mesh are common size.
more detail, pls check here
Specifications of Square Wire Mesh:
Square wire mesh weaving type:
1):plain weaving 2):weaving after crimping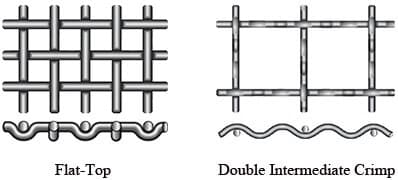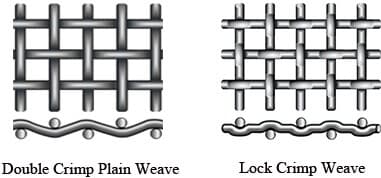 Square wire mesh Speicifications:
• Wire diameter: 0.2mm-2mm
• Mesh: 2mesh -60mesh
• Width: 3',4',1m,1.2m,1.5m etc
• Length: 100',30m or as customer's requirement.
Square Wire Mesh
mesh
wire diameter
opening
mesh
wire diameter
opening
(mm)
(mm)
(mm)
3x3
1.6
6.87
20x20
0.27
1
4x4
1.2
5.15
22x22
0.25
0.9
5x5
0.95
4.13
24x24
0.23
0.83
6x6
0.8
3.43
26x26
0.2
0.78
8x8
0.6
2.57
28x28
0.18
0.73
10x10
0.5
2.04
30x30
0.15
0.7
12x12
0.5
1.61
35x35
0.14
0.59
14x14
0.4
1.41
40x40
0.14
0.5
16x16
0.35
1.24
50x50
0.12
0.39
18x18
0.3
1.11
60x60
0.12
0.3
Package of Square Wire Mesh:

Wrapped with moister-proof paper, Then covered with woven bags.
As professional Wire Screen Supplier and Wire Mesh Manufacturer, we are aable to supply high quality Wire Mesh with low price, welcome contact us freely !