Filter Disc
Filter disc, also named of wire mesh filter disc, filter screen or wire mesh filter, is mainly made of stainless steel woven wire cloth, stainless steel sintered mesh, galvanized wire mesh and brass wire cloth, etc. It is mainly used to remove unwanted impurities from fluid, air, or solid. It can be made of single layer or multi layers filter packs, which can divide into spot welded edge and aluminum framed edge.
1. Filter disc Material:
Stainless steel/ Low carbon iron/ Nickel/Monel /Inconel/Copper etc.
Depending on the material, the corresponding products are: stainless steel filter screen, stainless steel wire cloth discs, ss filter mesh, black wire cloth, nichrome wire mesh, monel wire mesh, inconel wire mesh, hastelloy wire mesh, copper wire mesh, brass filter screen.
For example: #20 #40 #100 #200 mesh #400 mesh 304 316Stainless Steel woven Wire Mesh Filter.
2. Filter disc Mesh count & Wire diameter:
1-3100mesh
0.018-2.03mm
3. Filter rating:
2-315um
4. Filter disc layers:
1-7layers
5. Filter disc Technique:
binding, spot welded and sintered
6. Filter disc Shape:
Round, rectangular, elliptical or customized
7. Filter disc Feature:
· Made in various materials, shape and sizes
· Easy to install
· Strength and easily cleanable
· High temperature resistance
· High filter rating
· Durable and long life working
· Available in screening and filtering in acid, alkali conditions.
8. Filter disc Application:
Because of its acid and alkali resistant features, filter discs can be used in chemical fiber industry as screen, extruder screen mesh, oil industry as mud mesh, plating industry as acid cleaning mesh. Besides, also can be applied in absorption, evaporation and filtration process in rubber, petroleum, chemical, chemical fiber, rubber production, medicine, metallurgy, and machinery.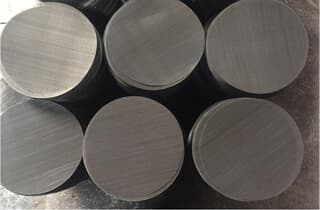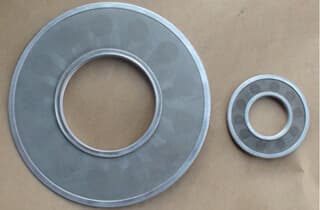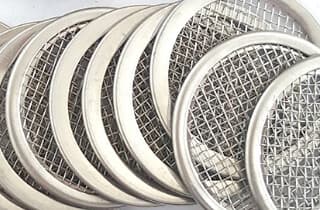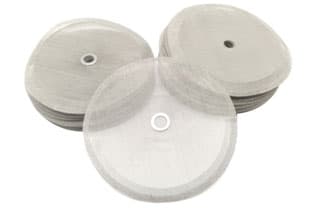 Filter Tube
Filter Tube also named of cylindrical filter, wire mesh filter element, metal mesh tube. Different from filter discs, it is in cylinder shape. Filter Tube are made of various good quality raw materials including stainless steel wire, stainless steel woven wire cloth and carbon steel mesh, etc. In order to meet the customers' growing demand, single layer and multilayer filters are available in every diameter and size. To enhance the filtration efficiency, multilayer filters may be consist of several different kinds of mesh. In addition to, cylindrical filter with an aluminum rim edge and filters with closed bottom are also supplied.
Due to regional variations, the mesh filter may be referred to as: stainless steel filter tube, wire cloth filter, metal gauze filter, metallic filter, metal screen filter, metallic filter, fine mesh filter, metal mesh filter, mesh filtration, mesh for filter, filter screen, etc.
1. Filter Tube materials:
stainless steel/low carbon iron/nickel/brass/copper/monel/inconel/ hastelloy.
2. Filter Tube Technique:
woven, welded, perforated and expanded
3. Layer:
single layer or multilayers
4. Edge processing:
wrapping edge or metal flange
5. Marginal materials:
stainless steel, aluminum, copper, etc
6. Mesh Outdiameter:
5mm, 10mm, 50mm, 80mm, 100mm, 500mm
7. Filter precision:
2 - 2000 µm
8. Filter Tube Features:
· Easy to clean.
· Smooth surface structure.
· Excellent resistance to abrasion.
· High temperature resistance.
· Accurate filtration precision.
· High porosity and high dirt-holding capacity.
9. Filter Tube Application:
Filter Tube is mainly used for all sorts of liquids, particles and waste separation, and water filtration. It is also available in petroleum, chemistry, metallurgy, machine, medicine, automobile industries in absorption, evaporation and filtration process.
· Filtration of air: air filters, vacuum filters, filtration of corrosive gases, etc
· Filtration of liquid: ceramics polluted water cleaning, beverage, disposal of sewage water, filtration of corrosive liquids, beer brewing filter, etc
· Filtration of solid: glass, coal, food processing industry, cosmetics, fluidised beds, etc
· Filtration of oil: oil refining, hydraulic oil, oilfield pipelines, etc.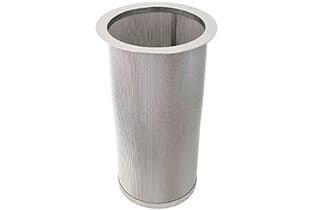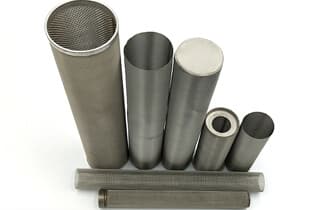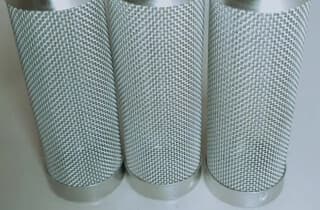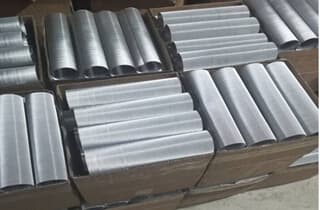 Mesh filter can be found in many different applications. Small mesh filters are found on the top of microphones, in the plumbing systems of many showers and taps, in dryers and in automotive oil filters. Because mesh filter can be made with such a wide range of specifications, they can be used in literally dozens of completely different industrial and household applications. We will supply high quality Mesh filter with low price, welcome contact us freely !