Processing:
It is made with woven wire mesh, or welded mesh, round wire normally. Finished with chrome plating or stainless steel surface.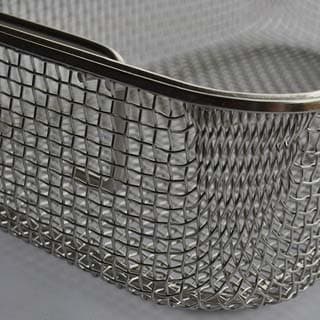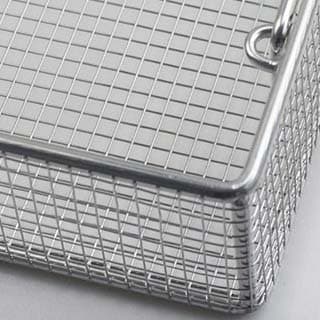 Product specifications:
380 * 300 * 50mm 400 * 300 * 50mm
280 * 200 * 60mm 350 * 250 * 60mm
450 * 300 * 60mm 480 * 250 * 70mm
250 * 170 * 70mm 340 * 250 * 70mm
all trays and baskets can be customized as per requirement,such as wire diameter,mesh hole size, size of tray and basket.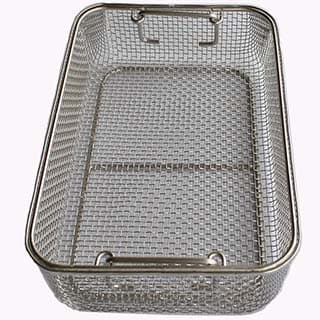 Features:
1. Stackable for easy storage.
2. It is made of 304 316 stainless steel, with surface treatment and electrolytic polishing. It is durable, hygienic, and compatible with steam and EtO sterilization.
3. The grid design facilitates the penetration of water or steam to ensure the cleaning and sterilization effect.
4. Perforations maximize exposure to sterilizing steam.
5. Small perforations reduce risk of damaged instrument points.
6. Available in a variety of sizes and dimensions.
Product Usage:
1. SS Cleaning Sterilized Basket is mainly used in medical units, hospital departments such as operating rooms, supply rooms, disinfection rooms, dental clinics, wards and other medical institutions related to cleaning and disinfection.
2. Ideal for transportation, sterilization, and storage of instruments.
3. Disinfection of instruments, laboratory experiments.
4. It can be used for disinfection and sterilization of articles, ultrasonic cleaning, storage, etc., especially for surgery
Put the instruments and diagnostic instruments into the instrument tray for cleaning and sterilization together.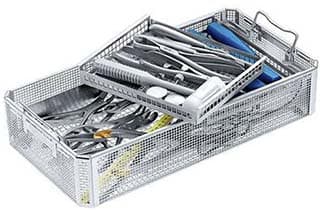 Advantage:
Stable structure,Durable , smooth surface, no rust .
Easy to clean . No welded joint , safety use .
Smooth surface,anti-high temperture.
Non-toxic and tasteless.
Longlasting lifetime.
Hole Size guarantee the cleaning and sterilization effect.