Perforated metal is a kind of sheet metal usually made with styles of perforating,embossing,slotting or checkered plates.

Material:
Stainless steel SUS304,316,Galvanized steel,Carbon steel,Aluminum steel etc.
Specifications:
Thickness of metal sheet:0.35mm to 3mm
Width and Length:standard size 1000mm x 2000mm,and 1000mm x 2500mm,other size is available.
Hole shape for perforated metal product:
Round,square,long round,triangle,scale,diamond,oval,hexagonal,slot etc.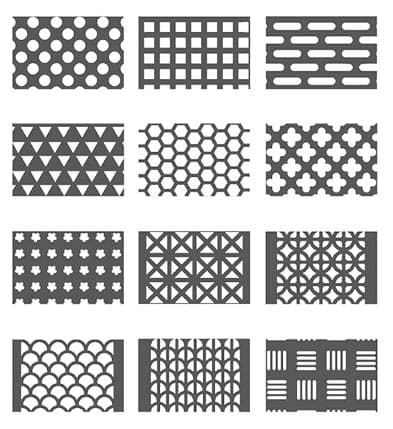 Pitch of perforated metal product:
Hole center is the distance from the center of one hole to the center of the nearest hole in the next adjoining row.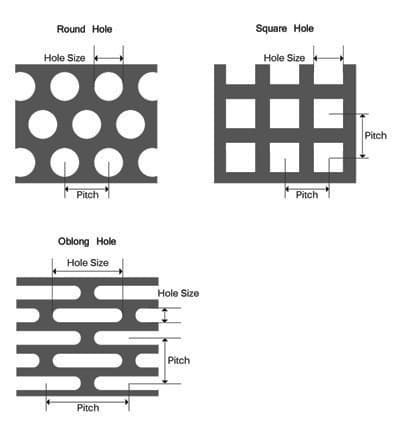 Open area:

Open area is the total area of the holes divided by the total area of the sheet and is expressed as a percent , Keep in mind that punching holes in a material add stresses that can result in distortion of the product. The higher the open area, the more material distortion takes place, especially when the perforated pattern is bordered by margins on all four sides. But these distortions can be removed by our special in house leveling process.
Margins :
Margins are the blank area along the edges of the sheet. If you want the product with special margins, you should provide the width of each margin on all four sides (measured from the edge of the sheet to the edge of the first hole).Manufacturing considerations may affect margins. If the margins requested are not possible. We will replace it with the similar products as your consideration.
Tolerances:
There are tolerances on thickness, pitch, openings, flatness, and shearing for perforated products. You should specify a specific tolerance ,so we can give you a precise product. If not, we will according to standard tolerance.
Detail specifications:
OPENING
C-TO-C
THICKNESS OF PLATE
Perforation rate
INCH
MM
INCH
INCH
MM


0.045
1.14
0.066
0.033-0.039
0.840.99
37.00%
1/16
1.59
3/32
0.027-0.033
0.68-0.84
41.00%
1/16
1.59
1/8
0.027-0.066
0.68-1.68
23.00%
5/64
1.98
1/8
0.027-0.053
0.68-1.35
35.00%
0.081
2.06
1/8
0.053-0.066
1.35-1.68
38.00%
3/32
2.38
5/32
0.053-0.066
1.35-1.68
33.00%
1/8
3.17
3/16
0.027-0.127
0.68-3.23
40.00%
5/32
3.97
3/16
0.027-0.066
0.68-1.68
63.00%
3/16
4.76
1/4
0.027-0.127
0.68-3.23
50.00%
1/4
6.35
3/8
0.033-0.111
0.84-2.82
40.00%
3/8
9.52
1/2
0.053-0.082
1.35-2.08
51.00%
3/8
9.52
9/16
0.059- 0.119
1.35-2.08
40.00%
1/2
12.70
11/16
0.033-0.127
0.84-3.23
48.00%
1/4
6.35
3/16
0.027-0.033
0.68-0.84
76.00%